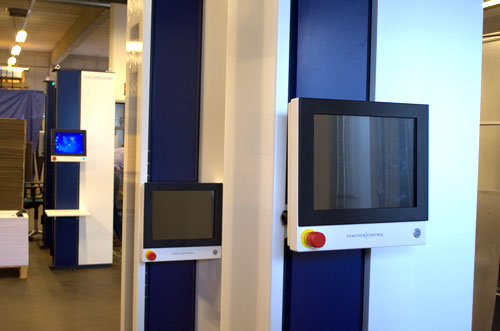 At Drupa 2012, we introduced the revolutionary new P7.
It is Better, Easier and Faster!
The innovative design and small footprint make it a machine that is easy to install in even the smallest spaces. It is mounted directly on the floor. A separate buffer protects it against heavy loads.
The new P7 is based on an unique monocoque chassis with flexible door panels. It is available in 2 heights, depending on your demands.
The touch screen panel can be fitting on 3 sides of the machine in different working heights. A side mounted table with power and USB connections for a printer is available.
At the front of the machine a LED indicator tells you if your stack is in the correct focus range. The smart user interface together with the large touch panel display makes it easy to learn and operate.
After counting, you are able to print a label or upload your data to an external database. Or, you can add a target quantity to be de-stacked (or indicated) from the pallet, to send just the right amount of sheets into your production.
The new P7 comes in 2 speed versions. For customers that require efficient daily production, the standard P7 is available. For those customers that continuously demand the maximum out of their capital investment, the high speed, P7i version is available.